Hijab is an obligation for Muslim women. Almost everyone uses a headscarf if they want to leave the house. This is why there are also many businesses, small and large, that produce headscarves. The hijab itself is fairly easy to make.
One of the things done in the production or manufacturing process is by cutting the cloth. Large-sized pieces of cloth will be cut first using laser cutting.
But more than that, laser cutting will also play a role, helping to create patterns from hijab fabric.Most of the pattern's placement will be on the edges of the hijab..This attractive and beautiful pattern is one of the attractions of using the laser cutting technique for hijab.
Various Examples of Hijab Cloth Materials That Can Be Used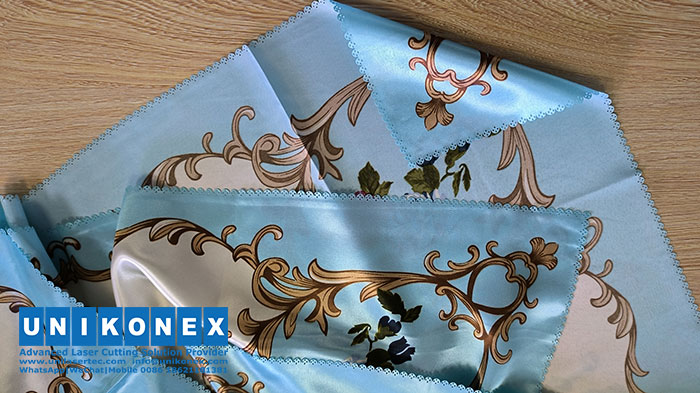 unikonex hijab laser cutting
1.Double Hycon
The first type of material used for hijab is double hycon. This material is for those of you who are starting a hijab business on a small scale.This is because the material used is contained within the type of cheap material.That way, the sale price later can still be affordable.Hijabs made of this material are quite popular for use, so it would also be suitable for use as a trade business.
2.Polycotton
This hijab material is one type of material that is also popularly used. The material comes from a combination of polyester and cotton, so it will be extremely comfortable to use. This material is widely used, as indeed on the forehead, where this type of hijab is frequently found, it can be easily straightened.
This type of material is not only found in plain colors, but is also often found in headscarves with various motifs. You can use the Unikonex Hijab laser cutting machine to help cut the fabric.
3.Diamond Crepes
The next type of material is the diamond crepe material. The material is widely used because it is quite unique..In contrast to other materials that may appear smooth, this material actually has a grainy texture like sand..The material is also quite elastic or stretchable..Generally this material will be used to make hijabs with long pashmina models. For the cutting process, you can use a laser cutting machine to make it faster.
4.Cornskin
As the name suggests, this material is a material that looks like a corn husk. The material has a striped texture and is also thin, so it will be suitable when used as a hijab material..The use of this material is quite popular in the market due to its unique appearance and texture.
Most cornskin materials come in a variety of colors, but are plain. Unlike polycotton, which comes with a variety of motifs. You can use this fabric with the laser cutting method. By using laser cutting, you can cut the fabric to the desired size without having to trim the edges by sewing.
5.Voal
The last type of material, which is also a material widely used in headscarves, is voal. The material has a fine texture.In addition to this, the vocal material is a cold material when used, so it will feel comfortable and not too hot..This material includes the excellent.This is because voal is a type of material that does not wrinkle easily.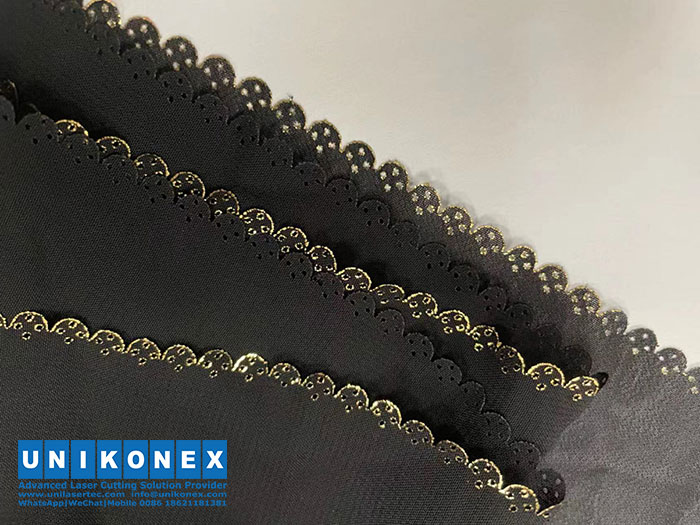 laser cut hijab unikonex
Perfect for those of you with lots of activities. Currently, many vocal fabrics are also printed, where the material is printed with a variety of beautiful motifs, as well as a variety of color choices. After that, the voile fabric will be cut using a laser cutting machine from Unikonex hijab laser cutting machine to also get high quality cut results.
In the next blog we will talk about why you should use Unikonex hijab laser cutting machine to cut your hijab and what the advantages are.
See you then.