Multi batches in small batches and quick response, new trend of sublimation printed sportswear
Data analysis company Statista has predicted that the global sportswear market will reach $188.2 billion by 2020, with a compound growth rate of 2.3% from 2019 to 2025, and the market is expected to reach $207.8 billion by 2025. According to the data provided by Alibaba International Station, in 2018, the total retail sales of the global apparel retail industry was 1,438.2 billion US dollars, and the market compound annual growth rate from 2014 to 2018 was 4.2%. However, due to the impact of low labor costs in some countries in Southeast Asia, the global share of China's apparel exports has dropped from 39.2% in 2013 to 33.6% in 2017. However, in major developed countries and regions including the United States, Japan, and Europe, imported clothing from China still accounts for more than 30% of the market share.
Industry analysts at Alibaba International Station told reporters that in the current global environment, the low labor costs and raw material price advantages in Southeast Asia have made Chinese clothing face competition from Vietnam, Bangladesh and other countries in the same industry. However, in this process, China's related industries have the advantages of short production cycle, high efficiency, complete industrial chain, quick response to market trends, and manufacturing capabilities in the mid-to-high-end market.
At present, the market demand for personalization is increasing, and product customization will become a competitive advantage. In order to meet the new requirements of "small batches, multiple batches, and quick response", factories must build a flexible supply chain to respond quickly to orders of different sizes, improve stickiness with customers, and enhance bargaining power. Garment factories continuously shorten the delivery time to meet the needs of customers in response to market changes. In the digital printing sportswear industry, the combination of digital printing and sublimation printing laser cutting allows the production to truly realize the production process of small batches and quick response, and the production batch is not limited.
1 set Unikonex sublimation laser cutting machine = 5 cutting workers
1 set Unikonex sublimation laser machine cutting speed = 500mm/s
8 working hours per day, 1 set Unikoex fabric laser cutting machine cuts more than 800 units sports T-shirt per day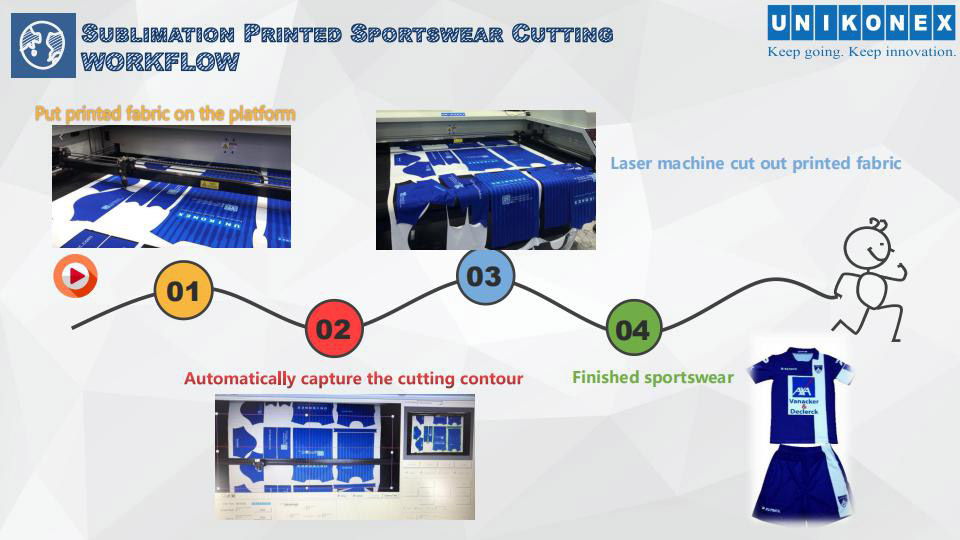 unikonex sublimation fabric laser cutting machine